I'm a pretty easy going person. It takes a lot to for me to go into a wild rage a la Malik Yoba in Why Did I Get Married 2.

And if you don't get the reference, I am jealous. I really wish I didn't.

But there are a few things on the Internet that randomly make me scratch my head due to my

confusion

mild annoyance

frustration

lice problem (j/k... I'm Black!)
They are (and in no particular order):

people whose screen name/handle includes titles they have yet to receive

. (i.e. MonicaYourMD, Esquire_Jonathan, MrsSongz) Even if you are in med school,

law school,

or one of several groupies that caught Trey's eye... stating it before it happens kinda takes away from the excitement you have when or if it becomes true. And God forbid that you decide med school isn't your thing and that you'd

actually

like to be the next Avon Barksdale. (if you don't get

that

reference, we may not be friends - See The Wire, Season 1).


purposefully mispelled words.

This includes 'dat' for that and the exchange of letters for numbers/symbols (l1k3 th1$). I understand shortening things when necessary (2 for to, U for you), but some of it is unintelligible, and I don't have room on my BlackBerry for the Urban Dictionary app.


being abstract for no reason.

When Twitter or Facebook asks you for your hometown, you don't have to be completely conventional and list "Washington, DC". You can say, "Home of the Redskins" or "Chocolate City." That's fair. But listing your hometown as "Under Fraggle Rock" or your bio as "a complicated puzzle created in the Zulu Nation and bred in the Pridelands" is just ridiculous. No one gets you. You don't even get you.


blog comments that have nothing to do with the post.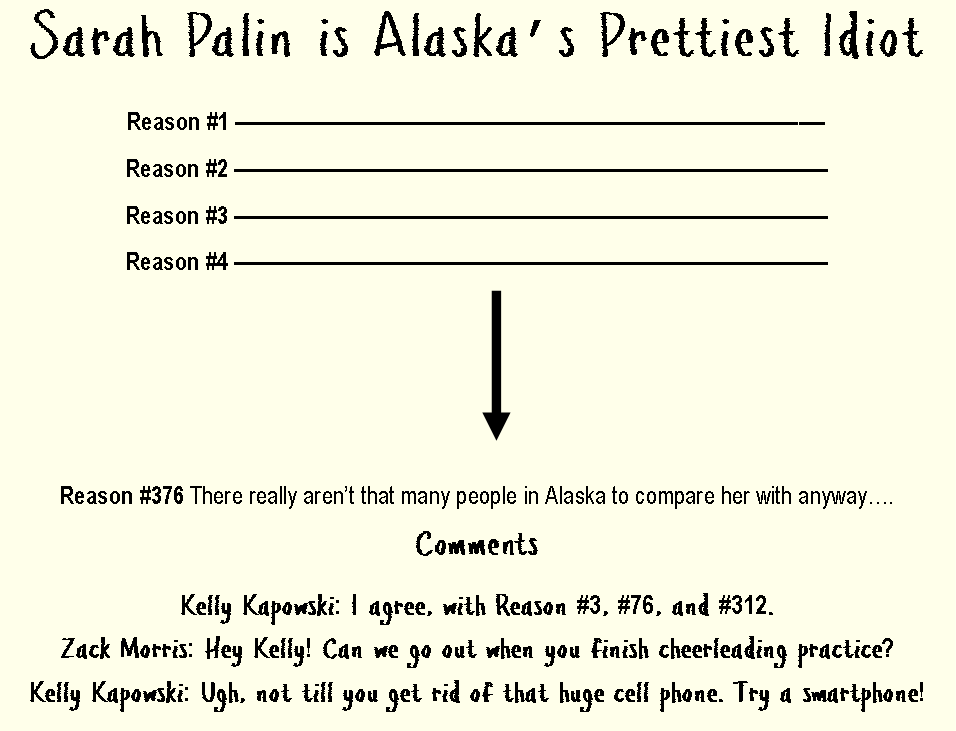 Facebook Middle Names that neither your mother nor father blessed you with.

We get it Casey Alwaysgrinding Webster. You work hard getting people to buy into your pyramid scheme for prepaid legal. (Shots intentionally fired).
All Caps.

WHEN YOU TYPE IN ALL CAPS IT MAKES ME FEEL LIKE YOU'RE YELLING AT ME AND IT DEFINITELY DOES NOT ENCOURAGE ME TO READ YOUR INSANITY, ATTEND YOUR PARTY, CLICK ON YOUR LINK, FOLLOW YOU ON TWITTER, OR DOWNLOAD YOUR MIXTAPE!! Don't you want to punch a baby now?

On a related note, capitalizing the first letter of every word in a sentence is suitable for the titles of books, films, names, but not necessary For Every First Letter In A Sentence.


Farmville.

Blatant References to Illegal Activity.

Ok, so you smoke weed... I'm not mad about it. But does the Library of Congress (who archives all public tweets) need to know? And while you thought it was cool to curse out your baby's father's current girlfriend and threaten to *&$% her up (symbols you used... not me), it's evidence in a court of law.

There are probably more, but to avoid looking like an angry, bitter black woman with a chip on her shoulder, I'll stop here. Do you all have any? I'm eager to hear them!