This is the question that was racing through my mind as a colleague and I attempted to place our order at Horace & Dickie's in NE DC. I've patronized this restaurant several times, largely because of it's proximity to my office and its hot tasty fried fish. Nevertheless, I get the impression that I am not wanted. While at this restaurant I (and my poor coworkers) have:
a. had a receipt thrust at us in a hostile fashion with a menacing roll of the eyes.
b. been rushed through our order despite the fact that there was no line behind me.
c. been told, "The tip jar is there for a reason!"
d. been told, "Go get your lemonade over there, I ain't got time for this!"
e. My last visit elicited: "You can leave now!"
Why continue to go, right? Well, I believe that some people have bad days and I wanted to give them a chance to redeem themselves. But my last experience was so harrowing, that my coworker and I decided that we will never go again. I refuse to be hazed just for supporting your business. Which brings me to the question of the hour....
How important is customer service in deciding whether you use a business or service again?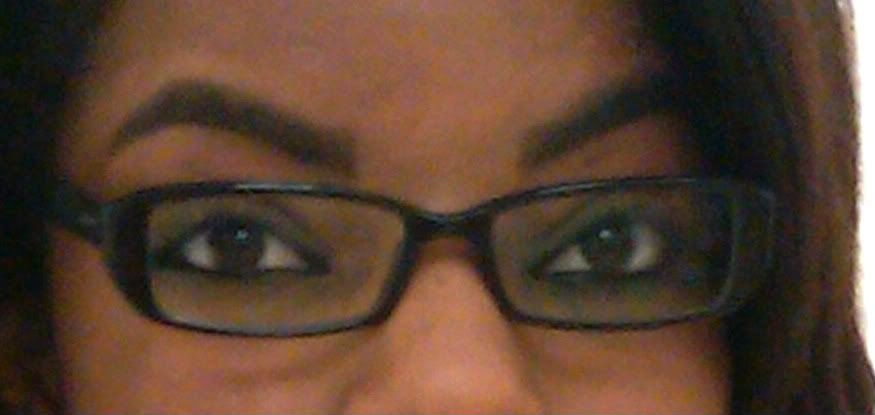 These are my new glasses by the way!
Case Study 1:
Allow me to describe my visit to
MyEyeDr
of Clarendon, in Arlington, VA. I was about 15 minutes late due to Metro delays so I called to let them know. When I arrived a little out of breath, the receptionist said, "You must be Crystal; so sorry to hear you were having trouble on the train. Would you like a beverage?" The manager was extremely patient as he showed me the different brands, picked out a few, and gave me honest feedback on how they looked. The next day, I ran into my doctor at Starbucks on the way to pick up the glasses and she said, "Hey, Crystal how are you? Ready for those glasses?" I certainly didn't remember her name, and yet, she knew mine after a brief eye exam!When I casually mentioned that I worked at a non-profit, they dropped $100 off the price of my glasses. Mind you I already had a significant discount thanks to
Groupon
.
I walked out with the intention of never going anywhere else for my glasses.
Case Study 2:
For about 3 years, Leslie at Shear Movement on U Street was my go-to hair stylist. I tipped well, referred friends, and was always on time for my appointment. Unless I lied and said I had a flight in two hours, I was there for several hours. But... I accepted this, because that's what I had come to expect from hair salons. Nevertheless, my last visit took the cake. My appointment was at 2:30. I arrived at 2:15 PM. My stylist was not there, and I thought that odd, but I said ok. A little after 3:30 as I prepared to ask a friend to style my hair, she strolled in casually with shopping bags. She said, "Girl, there was a sale, I just had to go." She ate a Chipotle burrito and
then
around 4:00 decided to start on my hair. I was angry but I really needed my hair done for an event that night, so I stayed. I sat there fuming and let her expertly style my hair. I paid, left a tip for the shampoo girl, and
walked out with the intention of never going back to that salon again.
And I haven't. I've never entered Shear Movement again, but I have referred several people to My Eye Dr of Clarendon and to my new hair salon,
Bang at the Verizon Center
. There, my stylist Amanda completes my hair in 1 hour dedicated specifically to me (and for cheaper than Shear Movement.) She doesn't eat while she's doing my hair. She doesn't talk on the phone while she's doing my hair. Whenever I enter the salon, the staff knows who I am, greets me by name, "Hey Crystal, glad you're back!" I don't know if they're acting, but they genuinely seem happy to see me.
Why give business to people who act like they don't want you there? Why not support people who seem genuinely gracious to have you? I wholeheartedly believe that a lot of small businesses, particularly minority-owned businesses would experience a great boom in sales if they treated people like they appreciated their business. Send thank you letters to clients, keep them in the loop about promotions, smile when they walk in the door, it's really very simple. I don't ask for much, just an appreciation of my hard-earned dollars.
What about you though? Would you continue to patronize a business with horrible customer service? Have you had any particularly good or bad customer service experiences? What do you consider "great" customer service? I'm interested in hearing your thoughts. But before you do that...
Today's Black History Moment
Black History isn't just about learning about things that happened in the past; it's about making it every day and continuing to build upon a great legacy left by our American ancestors. One way to contribute to Black History is through our support of others.
A dear friend and colleague of mine, Jabari Smith is in a contest to win the title of Paradise Hunter Host. If chosen, he would travel the world for a year leading his audience on a fast paced adventure through paradises across the world. (more information about the
job is here
.)
I can think of no one more qualified for this job than Jabari. He's one of the kindest, friendliest, and amazing people I know. You ever meet someone and mention some small detail of your life, and then months later, you run into them again, and they say, "How did that chicken pot pie recipe you were working on come out?" That is Jabari. He's got a compassionate heart, particularly for those in his hometown of New Orleans, he consistently supports charitable causes, and he can be counted on as a faithful ambassador of troubled youth.
While I'm sure that he can convince the judges that he is the best candidate for the Paradise Hunter job, he also needs votes from us! His most competitive opponent has quite a following of people supporting her, but I'm sure that between his network and the A Word or Three family, we have an ARMY that will get him to the top spot! Click the picture or click
here
and share the link with others!