Soon, I will be back on American soil full of memories, blog posts, stories and photos to share with you. I feel like I have grown and learned so much more in Liberia than I ever expected to. But in the meantime, I'd like to offer a chance for you to give back yourselves! (And have a great time) This is primarily for folks in the DC Region, but if you're still interested in supporting the children of DC, you are more than welcome to make donations as well.
The news has no shortage of stories of terrifying crime rates, children going hungry, or cuts in funding for critical programs. The problems seem so large that it seems that as individuals there's little we can do, short of ignoring our own personal commitments. Never fear; I have the solution for you! It is with great excitement that I announce an opportunity to serve a great cause without emptying your 401K or traveling abroad.
On Thursday, March 17th, 2011, Madam Tussaud's Wax Museum (located at 10th and F St NW) will host a

St. Patrick's Day Cocktail Reception

from 7 to 10 PM to benefit the renovation of the historic Butler Wyatt Metropolitan Police Clubhouse #2. For decades, Clubhouse 2 has provided a place for kids to play football, basketball, get homework assistance, and participate in leadership and character development programs provided by the Boys & Girls Clubs of Greater Washington. However, the facility is in need of an extensive makeover. The proceeds from this event will directly offset the costs to renovate the Clubhouse.
The event will feature the brand new Presidential Gallery featuring all 44 presidents

,

Rihanna, Babe Ruth, Madonna, Muhammad Ali, Angelina Jolie and many more. If you've never been to Madam Tussaud's, I can assure you it is an amazing experience! This fundraiser will feature complementary food, drinks, music, and opportunities to win prizes. The best part of it all is that while you will have a great time, you will also have the opportunity to support Butler Wyatt Clubhouse #2, former clubhouse of the current DC Mayor Vincent Gray and Sugar Ray Leonard, world-renowned boxer.
The tickets to the general public are $45, but as a friend of A Word or Three, you have access to a $10 discount code. If you would like to buy tickets, visit

http://stpattysdayfun.eventbrite.com

, and enter BGCGW in the line for discount code.
If you have any questions about the event, please don't hesitate to email me. I look forward to having a (jet-lagged) blast with you on St. Patrick's Day! Please share the link with your family and friends in the area, as we hope to sell out the event. Thanks again for your support of DC's youth! Together, we can contribute to making Clubhouse #2 a safe haven for DC's children.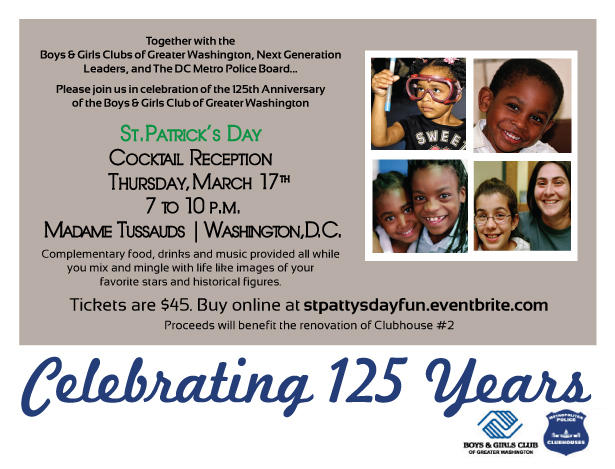 unlimited food

open bar

prizes

entrance to the Wax Museum ($21 value)

that warm and fuzzy feeling from giving back. :)
So why haven't you bought your
ticket
yet?